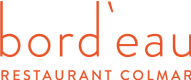 17, Rue de la Poissonnerie
68000 Colmar
Tel. 03 89 215 365
restaurant@bord-eau.com
Weekly closing: Sunday, Monday and Tuesday lunchtime
Open Tuesday to Saturday from 12:00 to 13:30 and from 19:00 to 21:30
—
Does a Chef have to adapt his kitchen to every diet?
Can he do it? And above all… does he really want it? On the other hand, how would we react if a hungry carnivore ordered prime rib in a Vegan restaurant?
For these reasons, we have decided not to make
of Vegan Cuisine but vegetarians are welcome.
—
3 allée du Champ de Mars
68000 Colmar
Tel. 03 89 215 360
contact@jean-yves-schillinger.com
Annual leave from :

12/11 to 21/11/2023 inclusive
02/25 to 03/2024 inclusive
Schedules:
At lunch, service starts at 12:00 and closes at 16:00
At dinner, service begins at 7:00 pm and closes at 12:30 pm
Discover the other establishments of Kathia and Jean-Yves SCHILLINGER

RESTAURANT GASTRONOMIC
**MICHELIN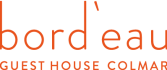 character sequences
in Colmar