3 allée du Champ de Mars
68000 Colmar
Tel. 03 89 215 360
contact@jean-yves-schillinger.com
Weekly vacations: Sunday and Monday and Tuesday lunchtime
During the Christmas market, our restaurant will be exceptionally open on Sundays 26/11 (lunch only), December 3 – 10 – 17 and 31. No gift vouchers will be accepted on Sundays.
Closed on December 24 and 25
Annual leave from
12/11 to 21/11/2023 inclusive
02/25 to 03/2024 inclusive
Schedules:
At lunch, service starts at 12:00 and closes at 16:00
At dinner, service begins at 7:00 pm and closes at 12:30 pm
Does a Chef have to adapt his kitchen to every diet? Can he do it? And above all… does he really want it? On the other hand, how would we react if a hungry carnivore ordered prime rib in a vegan restaurant?
We have decided not to do Vegan Cuisine in our restaurant and to leave that to those who specialize but vegetarians are welcome.
Discover the other establishments of Kathia and Jean-Yves SCHILLINGER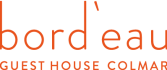 Character Suites
in Colmar